DutyDroid is a new airline crew app which will help you managing your personal crew duty schedule and assist your daily crew life.
The app is compatible with the AIMS e-crew planning system and builds up on the experiences made with the former app DroidAIMS. Although some features look similar, DutyDroid is a complete new development conforming to the latest Android design guidelines and coming along with a fresh and clear material design. A lot of effort was put into a thorough development of the app's features to offer a new level of functionality and dependability to the user.
Have a look at the list of supported airlines to see if your company is supported. Also check out what features this app offers. Lastly download and test the app for free from Google Play.
DutyDroid is compatible with the AIMS e-crew planning system and currently support the following airlines:
✓ Aegean Airlines
✓ Aer Lingus
✓ Air Algérie
✓ Air Asia
✓ Air Astana
✓ Air Greenland (no crew list¹)
✓ Air Serbia
✓ Air Tahiti Nui
✓ Air Transat
✓AirTanker Services
✓ Atlas Air
✓ Azur Air (Deutschland)
✓ Binter Canarias
✓ Cargolux
✓ Cebu Pacific
✓ China Airlines
✓ Condor (AVIASO)
✓ Copa Airlines
✓DHL Aviation (BCS, DHK, DHX)
✓EasyJet
✓ Etihad Airways
✓ Flybmi
✓ Flydeal
✓ Flydubai
✓ Germania
✓ Gulf Air
✓ Horizon Air
✓ Iberia Express (no crew lists²)
✓ IndiGo Airlines
✓ Kuwait Airways
✓ Level (Anisec)
✓ LIAT
✓ Omni Air International
✓ Pakistan International Airlines
✓ Royal Jordanian
✓ S7 Airlines (no crew lists¹)
✓ Smartwings
✓ Sun Country Airlines
✓ Sunwing Airlines
✓ Swiftair
✓ Tassili Airlines
✓ VietJet
✓ Vueling
✓ WDL Aviation
✓ Wizz Air
If your company uses AIMS e-crew and is not on the list send an email and we will try to get it working.
Current Exceptions:
¹ a crew list can only be extracted if your crew schedule contains a table labeled 'OTHER CREW MEMBERS' containing your flight's crew compositions.
² crew list cannot be extraced for due to a non conformal format of the 'OTHER CREW MEMBERS' table (RTES do not match flight numbers)
The app aims at making your daily crew life a bit easier and shall assit you with readily available information about your duty schedule. In order to do this the app is equipped with many smart and unique features. Take a look..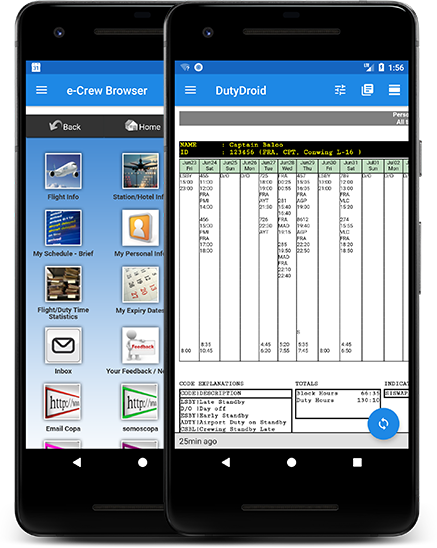 Get some overview about your flights using DutyDroid's statistics function
Visualize and share your flights with your friends.
TheGem Messenger Screenshots
The Download of DutyDroid via Google Play is free of charge and allows you to run 3 schedule updates in order to test the app's functions and to get an idea of what it is all about.
For further use the purchase of an annual user licence is required and will be offered as Google Play In-App Sales Product. This is a fair one time sale and no automatic subscription (no Abonnement). When your user licence expires after 1 year, you have the choice again to renew your licence or not.
This pricing scheme assures the continues support & maintenance of the app and you will even profit from future developments.
A list of frequently asked questions will be published here soon.
In contrast to many competitor apps, DutyDroid is coded 100% as native Android app (no hybrid / web app). This is the only way to assure best app performance and compatibility. Additionally it allows the usage of advanced system functions as they are required for the auto-update feature of DutyDroid.
Instead of investing the huge amount of time for a new iOS development, we prefer to push the development of DutyDroid forward and realise new functions and features in future.
App Policy
Despite thorough development of the app DutyDroid, there is always a possibility that something goes wrong. The author cannot be held responsible for any errors and possible consequences caused by the use of the app. All data shown in the app is 'for info only' and not for practical use. Always rely on your company's original duty plan.
The use of the app might violate or conflict with existing regulations (e.g. company policies). The entire risk and responsibility of usage hence rests solely with the user.
Support and Service Policy
DutyDroid is seen as an independent tool which supports and assists the management of airline crew duty schedules. Since the app depends on the data provided by the respective crew planning systems, there is always a possibility that smallest changes to these systems can render the app incompatible. As these changes can be manifold and are out of our area of influence, a reliable operational performance cannot be assured. There is no entitlement for technical support or maintenance.
Privacy Policy
Data Usage
DutyDroid connects to external servers of the respective airline crew scheduling systems and downloads and processes crew scheduling data. All corresponding data is saved and used solely on the respective device running the app.
However, to improve app support, assist technical maintenance and monitor usage statistics, the app uses third party services which collect information. See the respective privacy policies for further information:
Log Data
In case of app malfunction (e.g. app crashes or errors) the app collects technical log data and might offer to send this data to the developer. Additional information might be collected through third party services. Such information may include data such as your device Internet Protocol ("IP") address, device name or model, operating system version, the configuration of the app, the time and date of your use of the Service, and other statistics. Such information is treated strictly confidential and used solely for improving the app and supporting its further development.
Cookies
Cookies are files with a small amount of data that are commonly used as anonymous unique identifiers. These are sent to your browser from the websites that you visit and are stored on your device's internal memory.
This Service does not use these "cookies" explicitly. However, the app may use third party code and libraries that use "cookies" to collect information and improve their services. You have the option to either accept or refuse these cookies and know when a cookie is being sent to your device. If you choose to refuse our cookies, you may not be able to use some portions of this Service.
Security
We value your trust in providing us your Personal Information, thus we are striving to use commercially acceptable means of protecting it. But remember that no method of transmission over the internet, or method of electronic storage is 100% secure and reliable, and we cannot guarantee its absolute security.
Links to Other Sites
This Service may contain links to other sites. If you click on a third-party link, you will be directed to that site. Note that these external sites are not operated by us. Therefore, we strongly advise you to review the Privacy Policy of these websites. We have no control over and assume no responsibility for the content, privacy policies, or practices of any third-party sites or services.
Changes to This Privacy Policy
We may update our Privacy Policy from time to time. Thus, you are advised to review this page periodically for any changes. We will notify you of any changes by posting the new Privacy Policy on this page. These changes are effective immediately after they are posted on this page.
About
CHW Appz | Christopher Wolkensinger | Fröbelweg 10 | 47506 Neukirchen-Vluyn | Germany